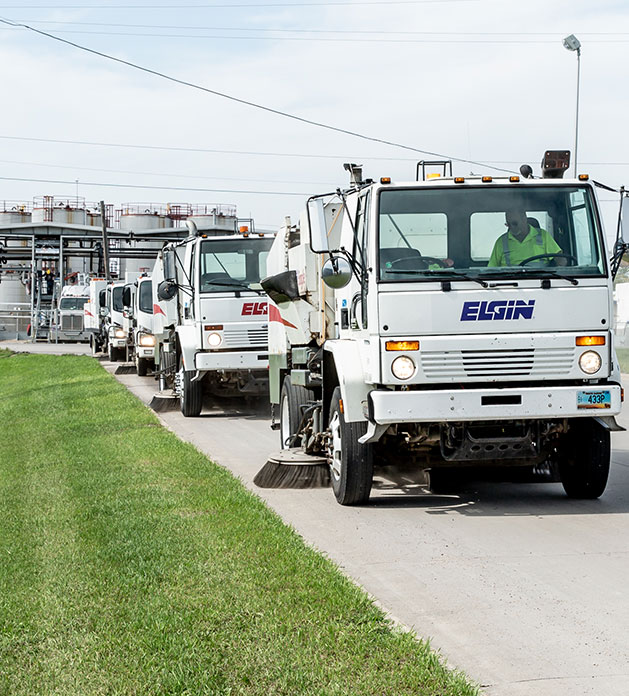 More Than a Street Sweeper
Our Mission at Pro Sweep, Inc. is to provide comprehensive and efficient outside maintenance services tailored to retail, municipal and state operations and to handle these issues on a regional basis.
Pro Sweep has the systems and training in place to keep our customers coming back to us again and again.
We now have three divisions, each specializing in a particular service area. Following is information about each of our sweeping divisions.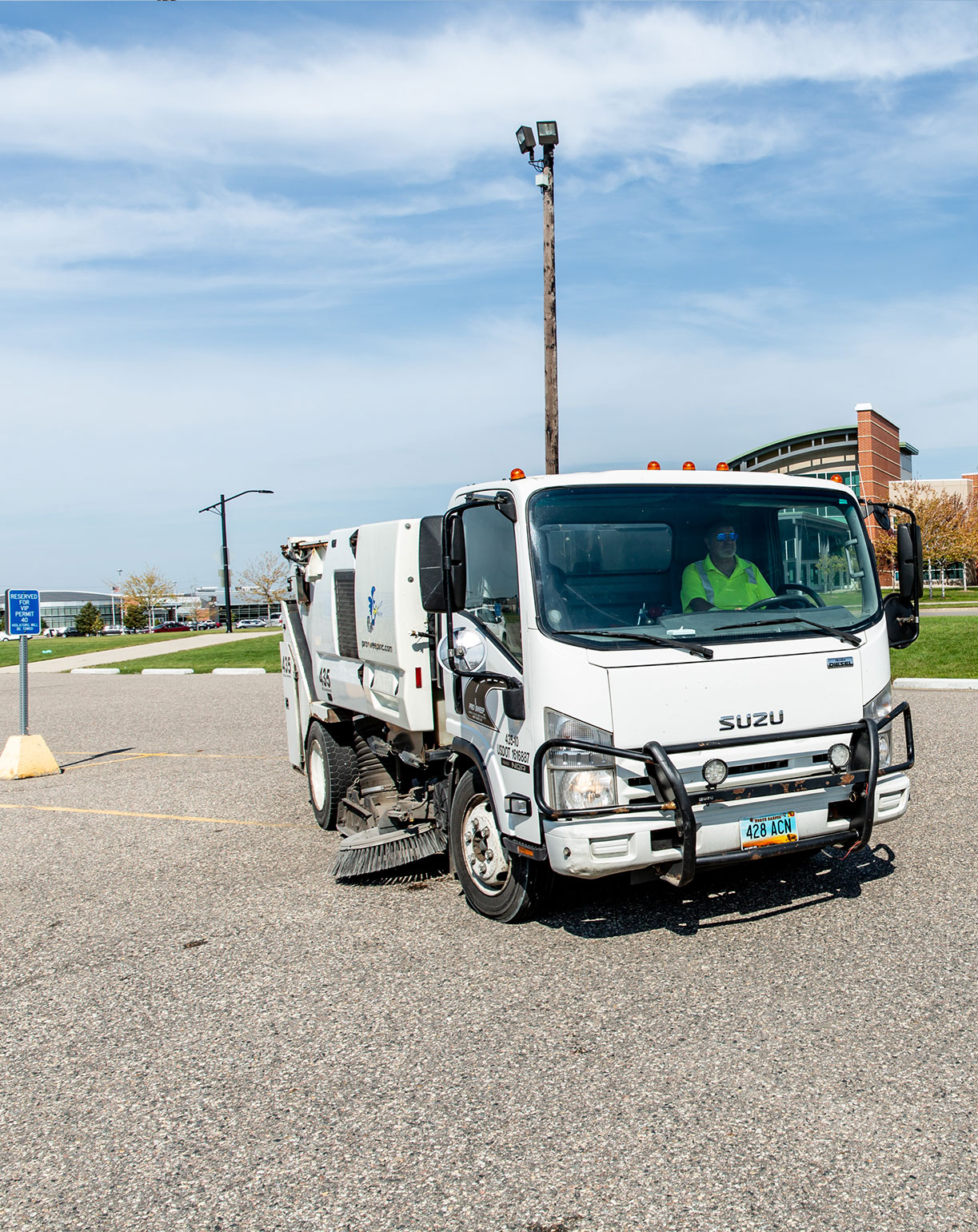 Parking Lot Sweeping Division
This part of our company operates our air sweepers in Minnesota cities that include Alexandria, Baxter/Brainerd, Bemidji, Breckenridge, Detroit Lakes, Dilworth, Fergus Falls, Moorhead, Thief River Falls and Wadena.
In North Dakota we provide air sweeping services in Fargo, Grand Forks, Jamestown, Valley City, Wahpeton and, of course, our home town of West Fargo.
We sweep a variety of types of businesses throughout that area, including retail shopping centers, big box retailers, hospitals, schools, gas stations and 'mom and pop' stores.
Because we provide predominantly nighttime sweeping services, our operators also serve as the 'eyes and ears' of the property managers. We try to stay on the lookout for anything amiss on a property, from kids using a mall as a hangout to repairs that need to take place. Because we are on the property on an ongoing basis, we think this is a logical component of our service, and customers appreciate the added professionalism. If you have any questions about what the many reasons for parking area sweeping include, we invite you to take a look at our PDF handout on this topic.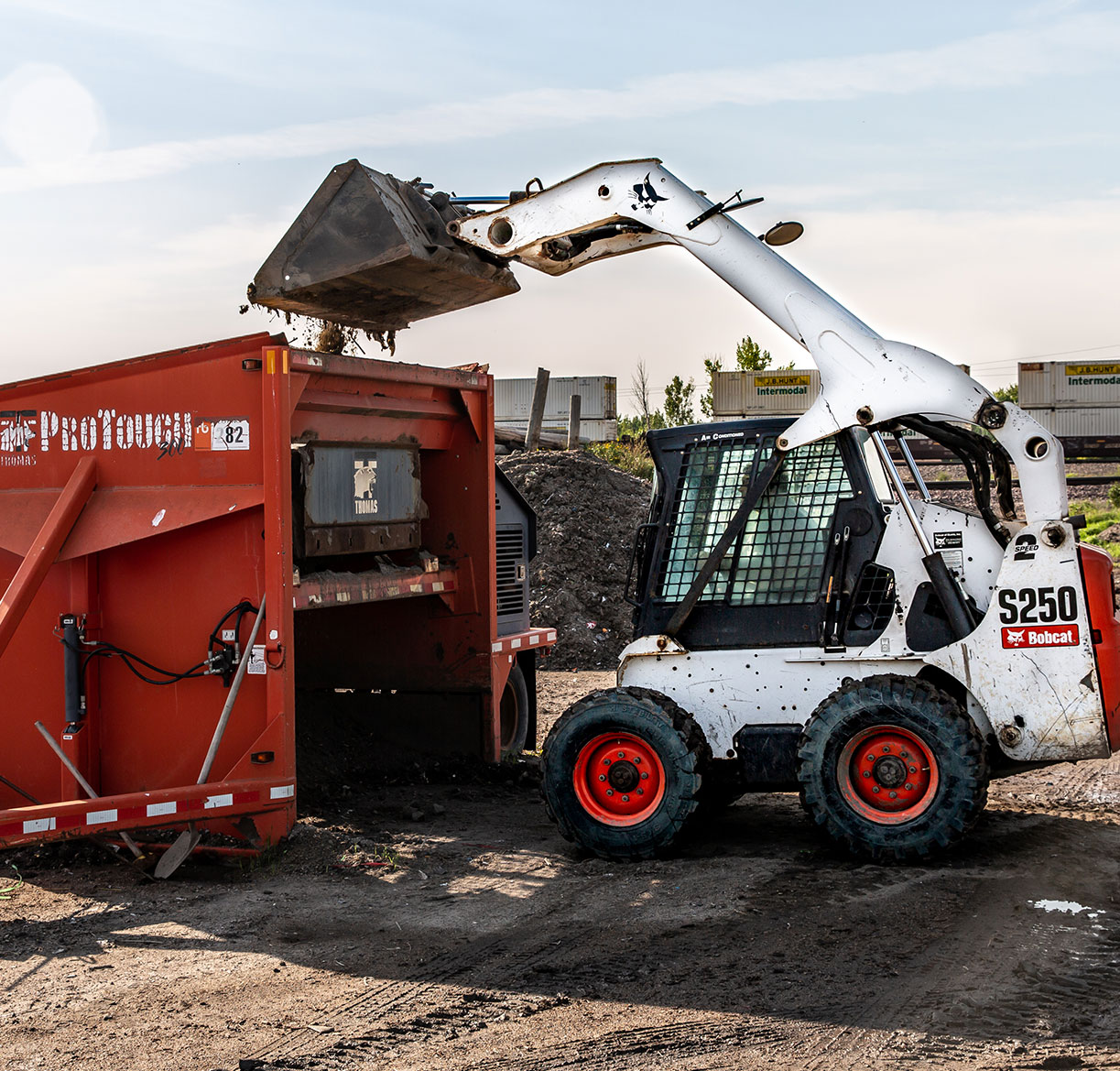 Construction Sweeping Division
Our sweepers travel throughout the states of North Dakota and Minnesota performing a wide variety of construction-related sweeping.
Although the majority of Pro Sweep's construction sweeping involves road-building, we are involved in a variety of other types of projects, as well. For example, the photo you see was taken at a Fargo road construction job site.
Pro Sweep works with a large contingent of roadway contractors that apply chip-rock sealcoat to roadways. Pro Sweep removes the excess rock, either with machines designed to sweep the excess loose rock to the side of the roadway, or with ones designed to pick up and contain the chip rock so it may be recycled into a usable product for municipal reuse.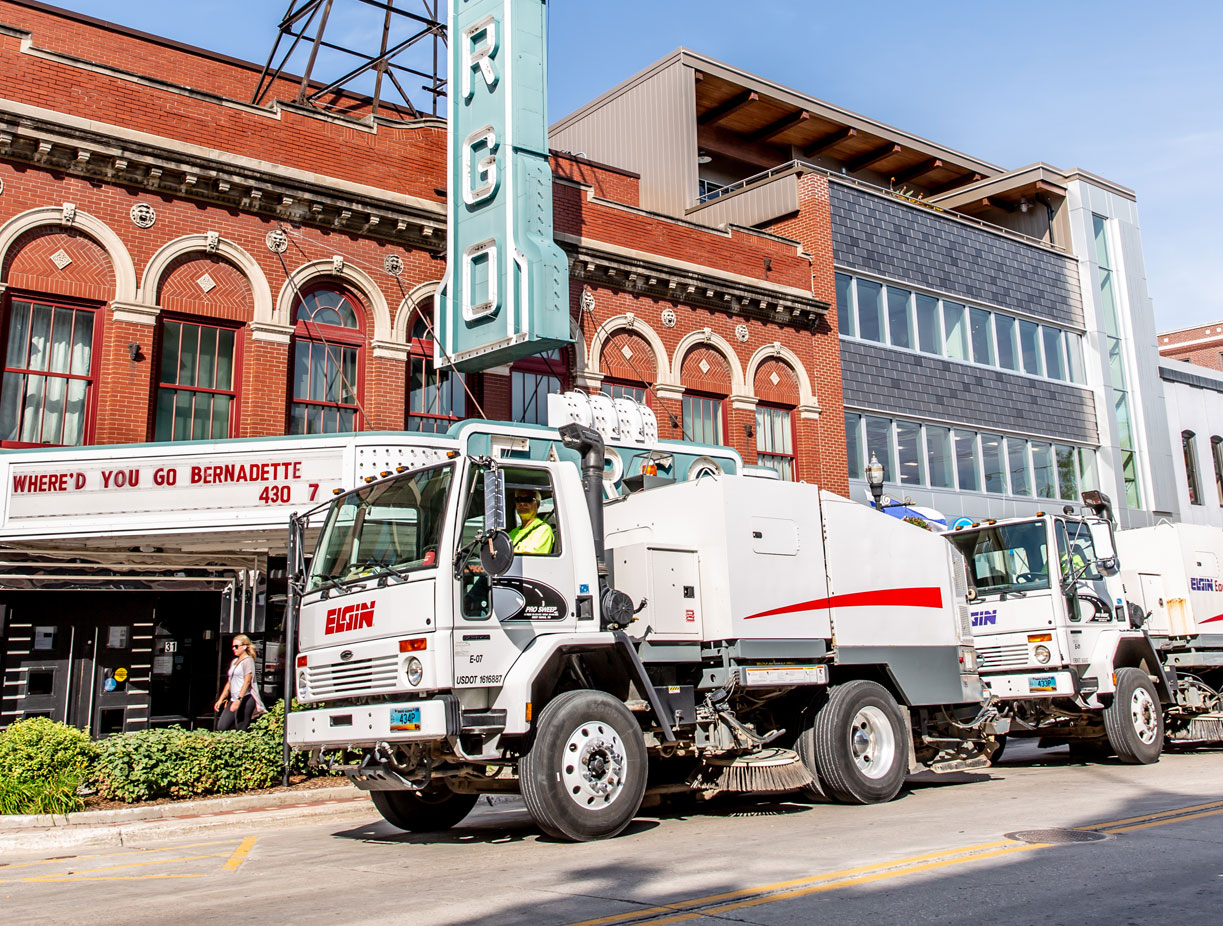 City, Municipal, and State Sweeping Division
Pro Sweep handles sweeping of the curb-and-gutter roadways in many of the small towns throughout the valley. It is said that Pro Sweep is the 'public works street sweeping department' for many cities in our region.
Both the North Dakota and Minnesota Departments of Transportation rely on Pro Sweep to help clean up after a long winter of putting salt and sand onto roadways. We do spring cleanup throughout the region to remove this debris from bridge decks and roadways.
Pro Sweep Success and Affiliations
Pro Sweep, Inc. has grown because property managers, as well as city and state officials, have learned they can depend on our services.
First, we help keep their properties looking clean and respectful. Second, we have the expertise to help with the emerging environmental factors like storm water runoff.
Third, in our area our citizens have a sense of pride in seeing a clean business area, and so patronize those places and produce a good business climate. It is in just such a location as we are in that a business like Pro Sweep, Inc. can thrive.
Affiliations
Locally, Pro Sweep is a proud member of the Fargo Moorhead West Fargo Chamber of Commerce. Nationally, we are proud members of the North American Power Sweeping Association (NAPSA) as well as the World Sweeping Association (WSA). In addition, we are signators to the WSA's Ethics in Power Sweeping Initiative.